This is actually all about my husband, who I might not have ever married if it were not for a totaled car :)
I didn't really date much before I got married, I wasn's a seriel dater like most high schoolers, I was more of the obsessed with one guy that doesn't really have any interest in me type.
Even my husband and I didn't date very much. Mostly we were friends that made out alot for a while (I'm only a tiny bit of a whore, not really a whore I promise), like a month or two. Poor Michael asked me to be his girlfriend like 3 times and I kept telling him no. Not because I didn't like him, but because I had not really dated much before and had always gotten bored after like a month or less the two times I did have a boyfriend. Plus he was supposed to be moving to Washington for school in a few months, and I didn't want a boyfriend that lived in another state.
My family lives in Idaho, and Michael and I were going to go over to visit one rainy night almost exactly 5 years ago. We crashed when the brakes locked up and totaled the car. He bought a new car, which used up his money for school and he stayed here (interestingly enough he latered totaled that car to, which I am also thankful for because we got away from a car payment for awhile. He's not actually a bad driver, he just has bad luck). I told him that he could ask me that thing he kept asking me and I kept telling him no, and then we started dating.
That was November 2005, by December we had moved in together (my room mate moved out so I kinda couldn't have paid rent without him moving in), in January 2006 we moved to Idaho, in July he asked me to marry him, and in August we got married.
He hates how happy I am his car was totalled, after all our lives would have been consistantly easier without the sky-high insurance rates, and without the car payment since his old car was paid off, but if it were not for the totaled car I might never have started dating him, I really didn't want a long-distance boyfriend.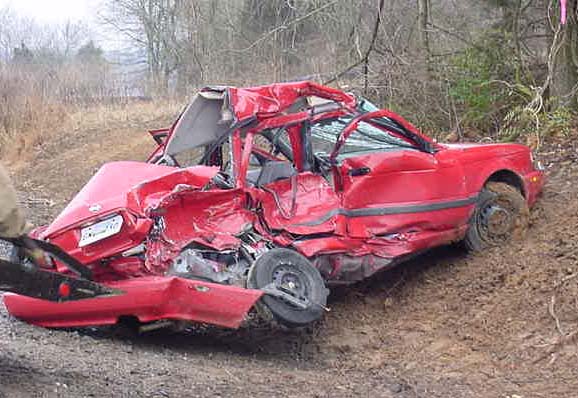 This is not our accident, ours was at night and much less scary looking. It was red though