These two books have been being read everyday around here. Kids love repetition, and although I am not usually big on reading the same thing over and over, I think that in this case, it is a good idea. I have lots of kids Christmas books, but not that many focusing on the REAL reason for the season. Since I want to emphasize that, I decided we could read these everyday until Christmas.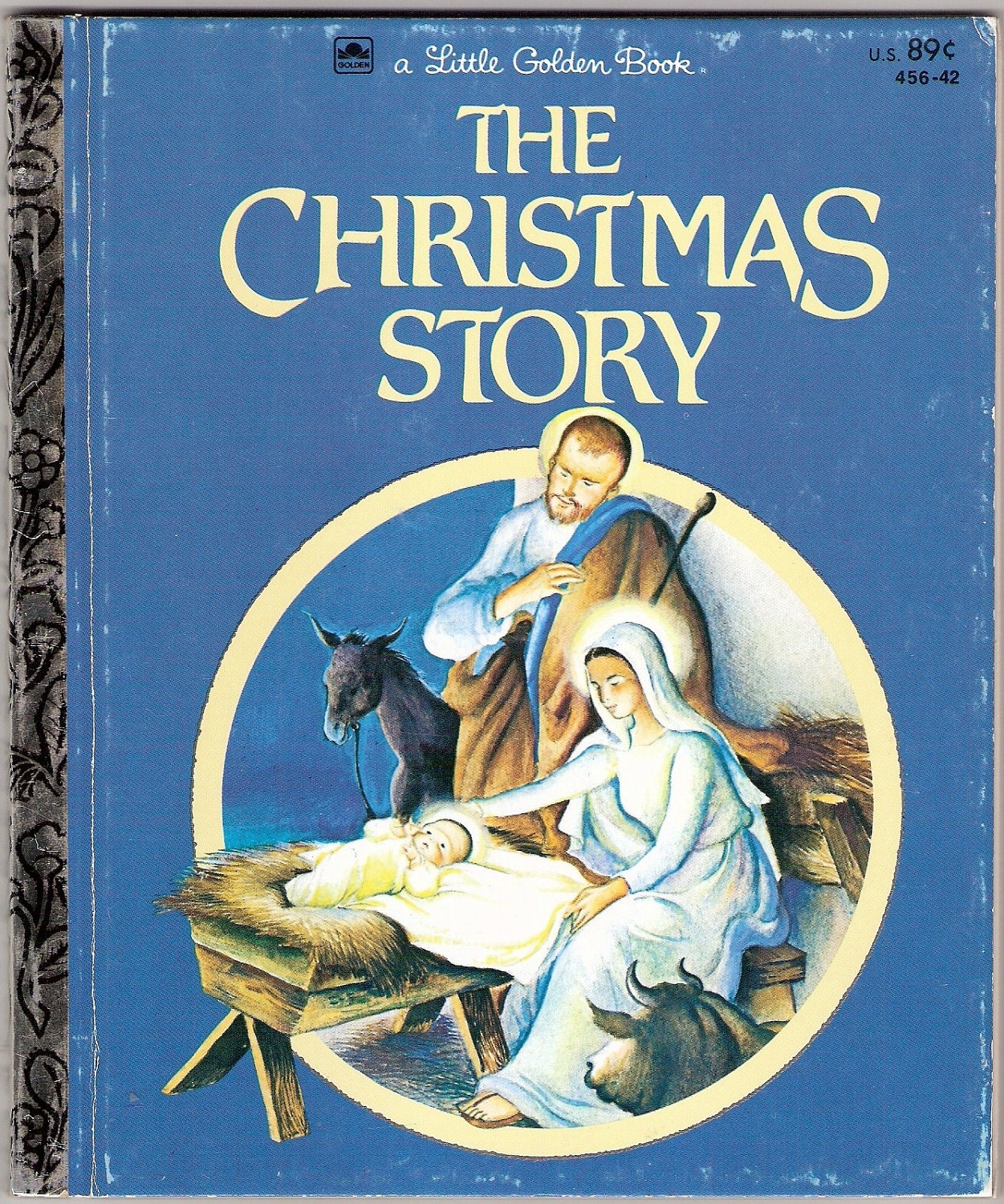 The Christmas Story is of course a Little Golden Book. I actually have two copies of this one, and the girls love it so much that one day they had me read both copies :) I have actually been reading them the copy I had when I was little, which is super cool. They know the story really well now, and if I leave out a word and wait they will supply it for me. The illustrations in this book are wonderful! I have a couple of things about the book that throw me off a little.
When the angel speaks to the shepherds it is paraphrased from the Bible.
King Herod is described as having a "wicked heart" which is true. But then he tells the wise men that he wants them to tell him where Jesus is so he can worship him. That is it. I tend to add in that he was lying and he wanted to steal/hurt baby Jesus, because otherwise, without knowing the story you have no idea that Herod actually IS wicked and is planning on murdering as many babies as it takes to kill Jesus, it sounds like he wants to worship him with the wise men and shepherds. Which of course I don't explain to the girls. The girls are really funny about King Herod. Hadlee used to laugh when I told her that he was really bad. So I told her she shouldn't laugh, that he is really, really bad and not funny. Now she gets a serious look on her face and says "He is NOT funny! He is REALLY bad!". When we read it on Wednesday Jordyn said "He is so bad, he would take our toys!"
The Best Thing About Christmas is great. I got it at a book sale a couple of years ago, and it is one of my favorites. My copy is actually orange and has completely different illustrations, which I like a little better. The book goes through all the fun things about Christmas: trees, food, family, presents, etc. but at the end of each page it says "But that's not the BEST thing about Christmas..." About halfway through the book it tells you what the best thing about Christmas is "Jesus, Baby Jesus!". Then it tells a very short version of the story of Jesus' birth and tells you that it is Jesus' birthday, Jesus is God's own son, and that Jesus came for us. The girls have this book pretty much memorized, which is awesome. Hadlee also says "Jesus came to save us! So we can go to Heaven when we get dead." pretty much every time we read it now. This book has a one thing that annoys me.
It says "Jesus came for me", which since I am reading it out loud, I change it to "Jesus came for us" because it seems much more accurate when I am reading it to other people. I suppose if I was reading to myself it would make sense either way.
Since they are not my kids I tend to not really tell them that much about getting saved and such, plus they are to little to really get it I think. But while we were reading "The Best Thing About Christmas" Hadlee asked why Jesus came for us, so I told her, and she remembered quite well after being told only once. I always hope that I am not over-stepping my bounds with them, but I also can't NOT tell them about it, especially when they ask! She was a little disturbed by the idea of going to Heaven after you DIE. She said "But I don't want to get dead", so I told her she didn't have to die for a long, long time.
I can't (noticeably) pray at mealtimes anymore, because I decided for like a week that I should pray before meals, but then they girls asked me what I was doing and I told them and then they wanted to pray before every meal too. Which was super cool and awesome with me, but since neither of them come from super religious families, I wasn't sure they would appreciate their (then 2 year old) daughters requesting a prayer before meals. I suppose when I get my own kids I will need to demonstrate it for them, regardless of the daycare kids, but until then I am not sure it is appropriate. They both go to (or will go to) church pre-schools, which is why I don't feel like its out of line for me to read them these Christmas books on a regular basis.